In the last 5 weeks Shanghai, China was in total lockdown. Home of the biggest port in the world where most of the imported products you buy from the shops are being shipped out. We have seen already the massive effects of this on the shipping industries.
https://news.sky.com/…/covid-19-extraordinary-image…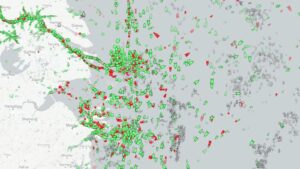 As a result, marine traffic and port congestion just got worst.
Shipping delays for both exports and imports created a bottleneck as shipping schedules had been totally disrupted.
Last week, we were advised by some shipping lines that containers at the FarEast transit ports bound for Manila will be experiencing 4-6 weeks of delays.
Container booking now is getting harder only a few and very limited shipping companies are accepting booking bound for the FarEast a big number of vessels are still not back on the Europe side.
We are now advising our customers to please consider this current situation, when sending your goods through balikbayan box make sure the goods most especially the FOODS you are sending will not expire in 12 months' time and allow much more time to ship out your goods. The average transit time now is between 3-5 months depending on its destination.
And the Company is NOT liable for Shipping disruptions, delays, and events that are beyond our control whatsoever. (Fully set out on our Terms and Conditions under Sec 4.)